Best Practices
Running an Election
Knowing how to run an election the correct way can be challenging. Here is a best practice elections guide to help you make the best of your annual election event. 
The holiday season is a time to be thankful for all we have. One way to show thankfulness is to let people know we value them. An easy way to show people they are valued is to communicate with the people who are involved in and impacted by our organizations. Communication is as important as ever and often requires effort.
1. Communicate with your board members. Even though tasks may be assigned to individuals, keeping everyone informed of accomplishments and issues helps build the team.
2. Communicate with your school administration. They are answering to district, so following the guidelines set out for them is important. If you are planning a fundraiser, communicate with the administrators before finalizing any plans.
3. Communicate with teachers. If your event impacts them, discuss it in advance and listen to their input. If you can garner their support in an event, they are more likely to help communicate your information to students and parents.
4. Communicate with your parents. Everyone is busy, so use multiple ways to communicate and tell them multiple times. Use all the different resources available to you for communication - social media, emails, paper, banners, sandwich boards, marquees, and text reminders.
a. Communicate about fundraisers. Why are you raising money, when are your raising money, how are you raising money, and where are you raising money.
b. Communicate about how money was spent. Not everyone will attend a meeting, but that should not prevent you from distributing information about how much was raised and what the funds were used for. Building trust that you do what you say will encourage future support of and participation in fundraisers.
We at CSB are thankful for all you do for CUSD. Keep up the good work!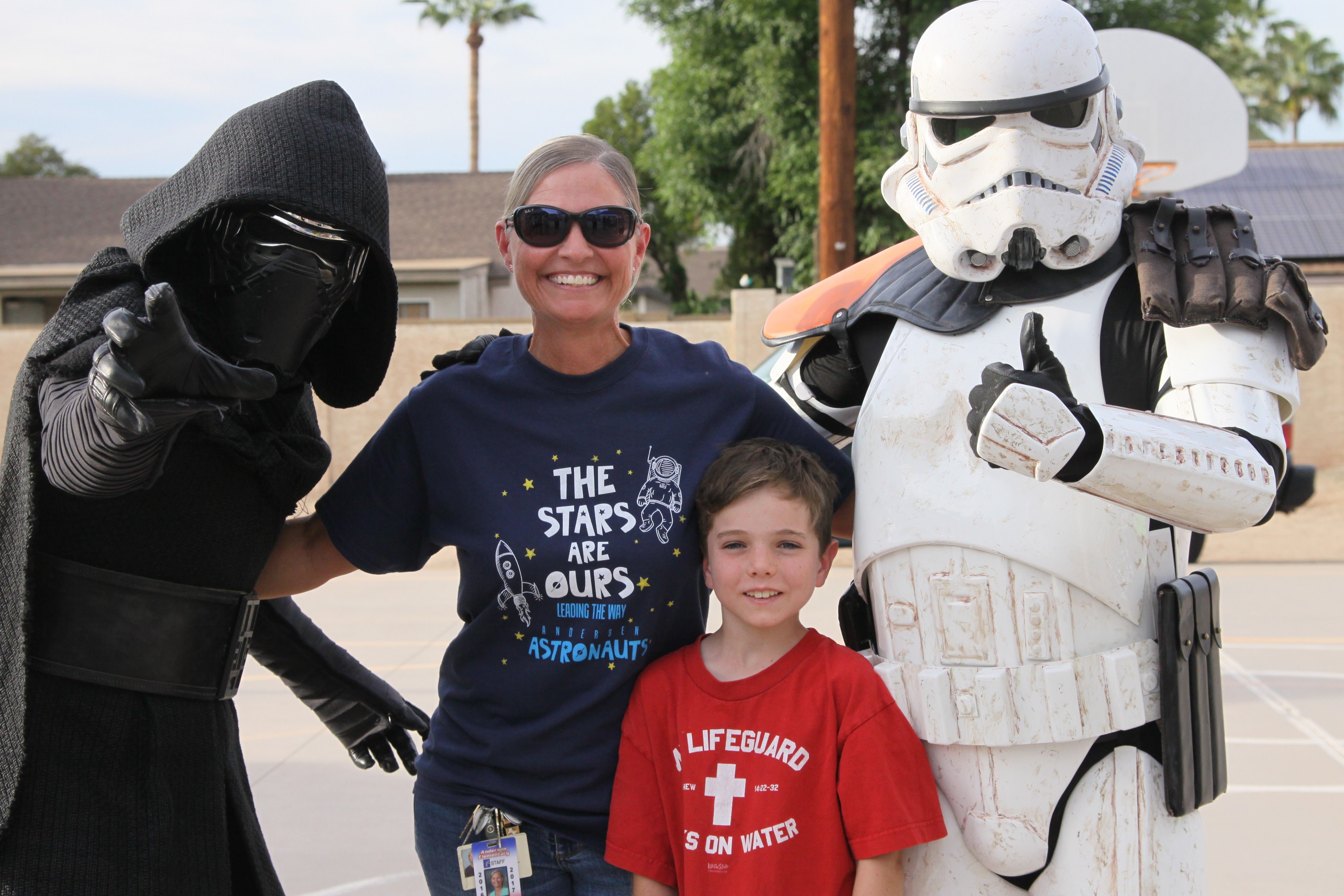 Everyone has given a lot of effort to the school year and with the end in sight, interest fades. Your own board may have dwindled with changes to work schedules and interest levels. There are still important events ahead, including teacher appreciation. So how do you get people to remain involved?
First, keep it as simple as possible for them to participate. Create sign up genius and ask for donations for items or volunteer time in smaller increments. Not only will people be able to easily sign up for something, they will also automatically receive reminders of what they committed to do. Providing a gift card at this time of year is far simpler than committing to a three hour event.
Second, try to make it fun. People want to be a part of something good. Whether it is a fundraiser or teacher appreciation, a well thought out theme that people are excited about will motivate them to contribute their time and money.
Third, communicate the upcoming events repeatedly. Email, Social Media, and text messages help your community remember. People are busy and your event may be a lower priority to them at this point.
Finally, be realistic. Everyone has a limited amount of time and money at this point, including you. Teachers and staff are not looking for over the top gestures, but simple signs of appreciation. Consider your budget, your time, and be honest about what you can expect from volunteers so you are not causing yourself undue stress. Your events will be successful when it is well thought out and your best effort is made.
The treasurer's role is often the board position most dreaded by volunteers. The reality is the entire board is responsible for the financial health and oversight of their organization. Here is how you do your part:
1. Make sure to turn in your documentation in a consistent and timely manner. Minimize the amount of effort needed to verify deposits, petty cash, and payments;
2. Review the financial reports given at the monthly meetings:
a. Verify the amount of money raised and deposited. Confirm the amount raised was deposited by checking the bank statement;
b. Verify the amount of money paid out. If more money is paid out than expected, look at the budget, bank statements, and check register to verify all payments were authorized;
c. Identify anything unusual, which could be regular payments to the same vendor or a payment that was not budgeted for; and
d. If you do not understand a transaction, ask about it, investigate it, and follow-through.
3. Two people should sign every check and authorization for the withdrawal of funds. Do not blindly sign a check or authorization without understanding the purpose of the funds and that the expenditure is approved. Look at the receipt, invoice, or reimbursement request;
4. Never have one person with the sole access to the bank account. More eyes are better protection for everyone. All board members should see the bank statement every month; and
5. Enlist an outside group of volunteers or professionals to audit your financial records regularly.
Money, Money, Money. Handling money is one of the most significant aspects of volunteering for a PTO or Booster club. Here are some simple ways to make sure that the money you worked hard to raise does not fall victim to theft, fraud, or embezzlement.
1. Two people should be in attendance for all cash transactions. Regardless of the event, or whether two people are actually needed to do the job, make sure that two people have their eyes on the funds at all times.
2. (a) Two people should count the money, (b) together, (c) ideally while on campus. Both counters should sign a form to verify their counts were the same. You may be at the end of a long event, or in the middle of a busy one, but even multiple quick counts of small amounts will help protect the organization and you individually.
3. Ideally deposits of cash will be made immediately. If this is not possible and your school has a safe, keep the money in the safe until it can be deposited at the bank. If your school does not have a safe available, make sure two people have counted the money before it is taken off campus and that someone verifies the amount deposited matches the money count form.
4. Do not leave cash or checkbooks in your car unattended. Thieves do not discriminate between school funds and your personal funds. Money in your possession is your responsibility.
As we enter the fourth quarter and plan for elections of next year's board, it is easy to get senioritis and be ready to move on. You've worked hard this year and the finish line is in sight, but your duties are not over.
First, newly elected board members are responsible for next year's activities, not this year's. Don't throw in the towel quite yet. You've probably got a few things left to do and you need to finish the things you planned.
Second, while it is great to have the new board members helping with the rest of this year's activities, keep in mind that they are in training and not necessarily ready to be in charge of tasks that may require some detailed information or training. This is second nature to you now, but you have learned the proper procedures for handling money, getting administrative authorization, and communicating with volunteers. Use this time to train next year's board on what worked (or didn't work) and set them up to succeed.
Third, some aspects of a "hand over" of duties require some coordination. If you are removing and adding board members to a bank account, start to get that on the schedule for the end of the school year. This can take some planning, coordination of schedules, and communication with the bank. No one wants to spend the last day of school at the bank for three hours, so contact the bank and find out what documentation they need, how long a transition takes, and whether the information can be provided over a few days or if an appointment should be made so it is completed all at once.
While we are only half way through the school year, now is the perfect time to be planning for next year. There are two major things you should be considering right now (in addition to getting your tax information in!)
First, chat with your current board and volunteers to see who plans to stick around and who may be moving on next year. Then, start getting the word out about vacancies that will need to be filled.
Give potential volunteers an opportunity to get involved, attend a meeting, see the inner workings of your group, and learn about the commitments of being a volunteer in your organization. An extra set of hands is usually helpful too. Whether you are recruiting board members, committee chairs, or parents to help in the copy room, do not wait until the elections in April or the start of the next school year!
Second, this is also a great time to review what you have done. Create timelines for your important events so next year's crew will not panic about the things you wish you'd known sooner. Make a list of things that were good and things that could be improved upon. Identify which supplies you ordered too many of, which ones you lacked, and how you calculated the ones that were just right.
Our organizations should not be about reinventing the wheel each year. Instead, we want volunteers to improve upon what we did this year. Give next year's volunteers the gift of your knowledge.
On September 11, 2018, the president of a Virginia elementary PTO pled guilty to stealing $13,000 over 8 months. Embezzlement carries a one to twenty year prison term, per count. She faces up to 90 years behind bars. http://www.fauquiernow.com/index.php/fauquier_news/article/fauquier-pto-president-pleads-guilty-to-embezzling-13000-92018
On August 6, 2018, the treasurer of a Virginia Elementary PTO was charged with embezzlement for stealing more than $12,000 over a year to pay her personal expenses. https://www.newsleader.com/story/news/local/2018/08/06/elementary-pto-treasurer-charged-embezzlement/913668002/
On July 13, 2018, the president of a another Virginia school PTO was charged with forgery and embezzlement for using PTO funds to pay her home utility bill. https://www.wsaz.com/content/news/PTO-president-facing-embezzlement-charges-488127171.html
January 17, 2018, a former president of a Virginia elementary PTO pled guilty to embezzlement, conspiracy, and forgery for her role in assisting the current PTO president steal money over a two year period. The two of them took approximately $25,000. The former president received a one year jail sentence. https://www.insidenova.com/news/stafford-woman-pleads-guilty-in-pto-embezzlement-case/article_1c31003e-fbad-11e7-b2e0-e353ff30cb7d.html
On May 31, 2017, the treasurer of a Massachusetts elementary PTO was charged with theft for stealing $28,000 from her school and spending it on Disneyland, an auto mechanic, and an Opera House among other things. She told police she was the sole person overseeing the account and at times she mistakenly used the PTO debit card rather than her own. http://www.patriotledger.com/news/20170531/quincy-police-pto-treasurer-embezzled-28k
Please, do not be the subject of a scary story this year!
ELECTIONS:
PTOs and Junior High Boosters: Elections must be held at the final general meeting of the school year.
Sports Boosters: Elections must occur AFTER the team has been selected.
At minimum the following positions must be filled:
• President or Chairperson
• Secretary
• Treasurer
Additional officers/board positions may be elected per the terms of the group's approved bylaws.
Preparing for Election:
• A general meeting must occur before the election meeting. At that time, the current board shall announce the upcoming election and date
• Membership must be notified though all reasonable means utilizing any typical methods of communication for the group (email, Facebook, Twitter). The perception that a valiant effort has been made to notify everyone that an election will be held must be apparent. Include:
• Date and venue for the election
• Statement that nominations are being accepted
• Deadline for nominations to be received (typically one week before the vote)
• Information about how to submit a nomination
• Individuals, not groups of individuals are nominated. A reasonable time should be established for nominations to be submitted.
• Nomination forms:
• Must be completed and submitted by the individual running for office
• Should articulate expectations of all available board positions
As a best practice, individuals running for a board position should run for a general board position, not a specific role (such as President, etc.). Immediately after the election meeting, newly voted in members should meet to determine who will be President, Secretary, etc. This alleviates issues when several ideal candidates are prepared to run for the board. Limiting individuals to running for a specific board positions may decrease the number of candidates. Boards have the liberty to determine whether they wish to specify what roles candidates are running for.
Bylaws should state that the executive board can appoint vacant board positions if no candidates are voted in or a position is vacated.
Elections must occur by paper ballot for those in attendance only. No email or proxy voting is allowed. Teachers and staff members of CUSD are considered members of CSB organizations and may vote. It is best practice for administrators and coaches to abstain from voting.
Elected officers shall begin their term following the last meeting of the year. Outgoing officers shall transfer books, stamps, and documentation and formally change bank accounts to the newly elected board upon reconciliation of June bank statement, or upon the discretion of both boards.
District employees may hold office, but MAY NOT be signors on the bank account.
Proceeds Benefit Chandler School Boosters, Inc.